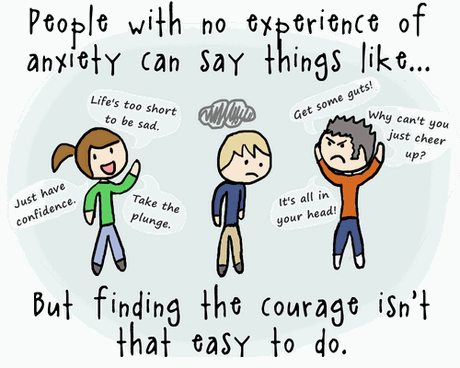 Anxiety….not knowing what will happen next, but your heart keeps beating without a rest.
Anxiety….thinking if you are good enough so you start to tackle things super fast, but you get worn out at the end.
Anxiety….it feels like you are out of breath as if you have ran a marathon, but your mind doesn't stop to rush.
Anxiety….it's like a disease that does not end because you feel like you drown in a cup of water which feels like an endless ocean. 
Anxiety….not knowing how to sleep at night and keep thinking of so much possibilities to not ruin your life.
Anxiety…the next stage after depression because it's like a cousin to the problems you had before you started to walk through another mission. 
Anxiety….not knowing if you are sometimes dreaming when something good happens because you have the fear that it all might be just in your head. 
Anxiety….not knowing how to conquer it because it tries to get stronger each and every single day.
Anxiety…. another battle you need to win because if you don't you feel like you have lost your own soul. 
Anxiety….the clock keeps going tick tock and the more you hear that sound the more crazy you might just find yourself. 
Anxiety….you wake up, put make-up, fake smile, keep moving, keep wishing, keep hoping, with a heart rate of 1000, crack your knuckles, cover up the tears, cover up the fear, and tell others you are okay.
Anxiety….STOP! see? this is the problem when anxiety attacks no one understands so you have to suck it up, move on, and since people don't understand you need to cry it out. 
Anxiety….It's like the devil laughing at your face each and every single day because the idiot thinks you will give up.
Anxiety….with tears in your eyes you ask God for help because you know its a mission you need to tackle, but with his grace you can do it all. 
Anxiety….If only everyone understood that it's not easy then maybe this world will be a bigger and happier place.
Anxiety….The ones who suffer it are the ones that can make your day when you are down, the ones that give you hope when you can't find it on your own, but they are the same ones who suffer with situations that no one would ever know.
Anxiety….at the end of the day only God could help to conquer it. 
So do not fear, for I am with you; 

do not be dismayed, for I am your God. 

I will strengthen you and help you; 

I will uphold you with my righteous right hand. 

Isaiah 41:10
If you know anyone going through this stage be careful what you say, and be careful what you do. People suffer on the inside and cry at night without no one knowing. Anxiety is not a thing that should be taken as a joke, but as a reminder that there are those that need time to get back up and going. It is not easy (trust me I know) sometimes saying certain things can be harmful even though you think it is not. We all have different journeys (that I know), but the ones suffering through this have the same lifestyle with different fears. Always remember that sometimes the ones that bring the most joy to your life are the ones suffering. If YOU have anxiety know that I will be praying for you!!! We are in this together….you are not alone. Love you guys and God bless. 
Xoxo-MishiPcm